Quantum Break Coming To PC April 5th
Remedy Entertainment's Quantum Break is coming to PC April 5th. Telling the tale of time travel gone wrong, Quantum Break features a mix of high-fidelity third-person shooting, cinematic in-game cutscenes, and live action cutscenes that star Shawn Ashmore (X-Men's Iceman), Dominic Monaghan (The Lord of the Rings' Meriadoc Brandybuck), Aidan Gillen (Game of Thrones' Petyr Baelish), and other top talent.
Having previously raised the bar for graphics and cutscenes with Alan Wake and Max Payne, Remedy's latest endeavor is poised to once again advance graphical fidelity and immersion with a raft of advanced effects and features, courtesy of their new in-house Northlight Engine.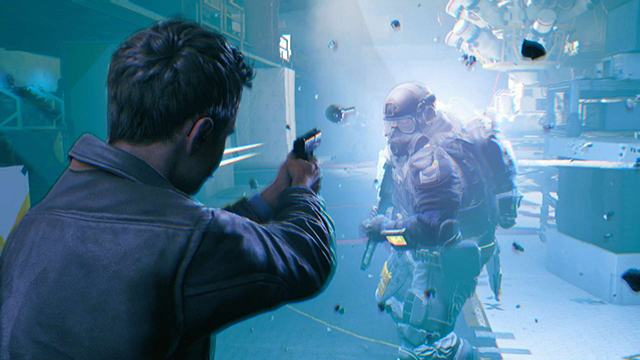 To experience the stunning scenes that Northlight and Quantum Break will produce, at a high level of fidelity, Remedy is recommending that gamers equip their systems with GeForce GTX 970 graphics cards. And for an "Ultra" experience, a GeForce GTX 980 Ti is recommended.
Windows 10 (64-bit)

Windows 10 (64-bit)

Windows 10 (64-bit)

DirectX 12

DirectX 12

DirectX 12

Intel Core i5-4460, 2.70GHz or

AMD FX-6300

Intel Core i5 4690, 3.9GHz or

AMD equivalent

Intel Core i7 4790, 4GHz or

AMD equivalent

2 GB

4 GB

6 GB

8 GB

16 GB

16 GB
If you're itching to buy Quantum Break but can't decide between the Xbox One and Windows 10 versions, don't fret – Quantum Break is kick-starting Microsoft's Cross-Buy initiative. Simply put, if you buy Quantum Break for Xbox One at a participating retailer you'll also receive a free copy of the game for PC. Furthermore, any progress make in the game is automatically shared between your PC and Xbox One, enabling you to continue the story from where you left off on either platform.
For further details about the PC edition of Quantum Break stay tuned to GeForce.com. In the meantime, check out a batch of new screenshots below.
Popular Pages
Popular posts
Interested
Tags in blog